Partner Portal, Admin & FTP Access has been down for 3+ hours
Could someone please look into ASAP
same here in US. down for many hours.
Another here. Unable to login to any admin site this morning.
Redirects to a 502 "Web server received an invalid response while acting as a gateway or proxy server" on systemaccess.co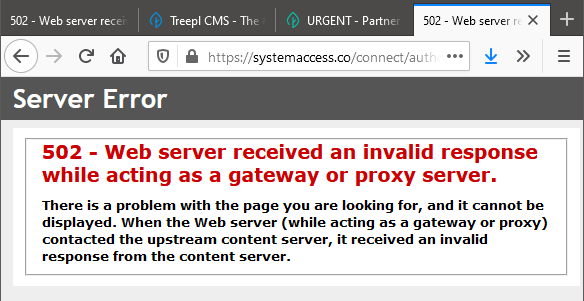 Yep same issue
I can't get into my Partner Portal, but I have an admin portal for a site still open from yesterday and I can navigate around to any page, custom module item, etc and do updates as per normal. A few months ago when I couldn't access the Partner Portal even though I was still logged in, I found that if I went to my browser history and selected a page within an admin area that I had visited, then the admin area page would open without any problems.
Thanks Hope, I did try this in a desperate attempt but sadly doesn't work
No, all internal URL attempts revert back to /admin which has given the spinning wheel all day.
This is critical, must have 24/7 emergency system support and status updates.
Sorry to give you false hope.

But it's always worth a try. The sort of URL I was able to access from my browser history is: https://www.client-domain-name.com/admin/module/99999/tree-view but as I said, I was still logged in – I rarely logout.
Thank you Treepl Team … I believed its fixed now (from Aleksey on slack)